Look Forward
Office Trends for the end of 2019 and 2020
As we approach the end of 2019, we wanted to reflect what innovative office trends have come into play in 2019 and what new trends we expect as we journey into 2020.
Sustainability
Our responsibility, as individuals and as businesses for the world we live in is at the forefront of our minds. As a result, there has been a massive shift in focus towards sustainability, reusing and recycling. At Navarre London, we wanted to be at the forefront of this change, and we have introduced our close the loop initiative.
This initiative means that the projects we are undertaking will be introducing (or reintroducing) more reused, recycled and upcycled materials that can then go on and be recycled/upcycled again. Eliminating the need for new products continually without compromising quality, thus "closing the loop". The reduction in waste to landfill can be substantial with this and will increasingly become more relevant as manufacturers decide to look at the products and manufacturing processes they use.
You can read more about our close the loop initiative here: https://navarre.london/the-close-the-loop-initiative/
Work-life integration
It isn't a secret that the boundaries between our work and home lives are becoming blurred as we spend more and more time in the office. Workspaces are now shifting to accommodate this trend by adding in more social spaces. Instead of traditional stand-alone cafes only in use for a couple of hours a day, the spaces are being reimagined into multifunctional areas.
The space isn't just reserved for food and drink, as the culture continues to shift you can expect to see more rejuvenation zones, games areas, gym facilities- the ideas are endless!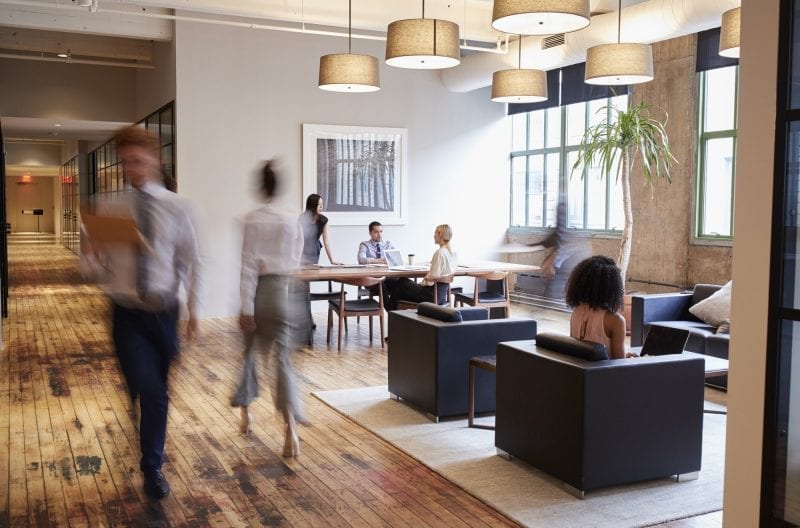 Making the most of the outdoor space
The effect of nature on our mental health and productivity is incredibly positive, for regenerating our tired minds. More and more businesses are starting to embrace their outdoor surroundings by transforming them into workspaces, even opening allotments for staff to take care of their own plants.
However, we are at the mercy of the unpredictable British weather! Bringing the outdoors in is another trend that we feel is here to stay. Rather than the mossy walls, trailing hanging plants around the office, suspended on the ceilings not only make great decorations but effective space dividers.
Agile Working
How employees work is becoming more flexible and mobile, the 9-5 working day is slowly becoming a thing of the past as more and more companies adopt a flexible working model. For this reason, workspaces need to also be flexible and adaptable to suit employee needs.
Fixed desks along with the traditional workday are decreasing in modern office design. Without a set space and the increasing nomadic nature of employees there has been an increase in co-working spaces. Rather than throwing a few chairs into the office, the spaces are becoming well thought out to nurture creativity and productivity.
Privacy provisions
As flexible workspaces grow in popularity- concerns for privacy in the workplace and finding quiet spaces for quiet and focus grow. For the remainder of 2019 and 2020 we expect to see more private areas in office designs, or if the company is adopting an activity-based working approach, more provisions for private areas where employees can work with minimal disturbance.
You can read more on activity-based working here: https://navarre.london/the-rise-of-activity-based-working/
Inclusive office trends and design
An office is a reflection of a brand, a culture and houses a diverse culture of wonderful minds. The retirement age is getting older with multiple generations in one place and our workforces are becoming more diversified. Aside from the legal obligations for an inclusive environment, good office design will go above and beyond to ensure every member of staff feels safe, happy and secure. The result is attracting, growing and retaining your top talent.
Fun with sustainable fabrics
Camira Fabrics have announced that they are moving away from tepid tones and turning towards something more fun and playful. Sustainable fabrics are already making substantial waves in the market with synthetic man-made fabrics quickly being replaced with animal-friendly, sustainable, recycled and repurposed fabrics.
Colour isn't just coming from fabrics, forget dull grey-washed walls, boring neutral colours- companies and designers alike are challenging traditional décor and injecting some exciting personality. We are expecting to see a clash of bold colours return in 2020 office design.