Office Design
Now, we can't all have office design and office environments like the technology giants in Silicon Valley, but some of our local London Offices are giving them a run for their money.
Now, looks aren't everything when it comes to where you work, but we can't deny it does help. Have a look around your office at the moment, if you think yours is pretty forward-thinking then have a look at some of these.
Dr Martens
This is an office design for all the music lovers out there!
With an amp wall as you walk into the reception, each one of the meeting rooms is dedicated to a different genre of music. From Punk to Reggae with some indie thrown in for good measure.
There are a variety of social areas throughout the HQ in Camden, one of which is complete with a stage and drumkit, while the intimate areas are set up like a recording studio. Totally soundproof, even down to the on-air sign so people know not to disturb. View Dr Martens website: https://www.drmartens.com/uk/en_gb/
Frank PR Office Design
The PR giant Frank is known for its outstanding PR campaigns and they believe in creativity without boundaries. When you see their office design, it is clear that every element of their values is saturated into their interiors.
With underground tube seats in the waiting area as a nod to all things London and let's not forget the famous collaboration area- The Waltzer room. Where staff and clients come together to find the "talkability" factor that Frank PR is so known for creating. View Frank PR website: https://welcometofrank.com/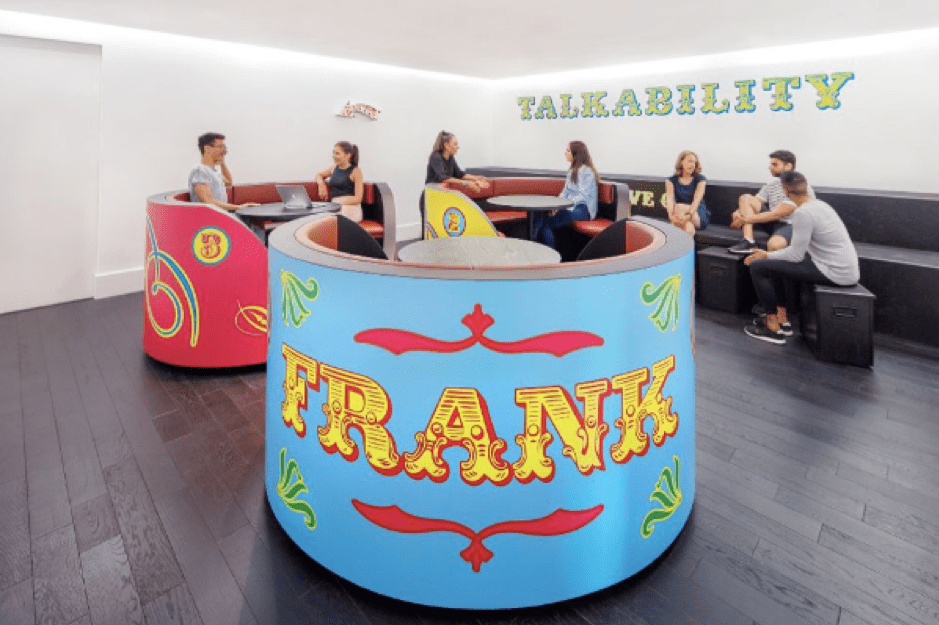 Gamesy Office Design
As a brand dedicated to developing entertainment software, it's no surprise that the offices reflect that playful nature.
With a giant monkey and unlimited sweets greeting you when you arrive, you can be sure this place will make an impression. If that wasn't good enough, their breakout rooms consist of pool tables and fridges well stocked with beers, wines and other ice-cold beverages to enjoy. View Gamesy website: https://www.gamesysgroup.com/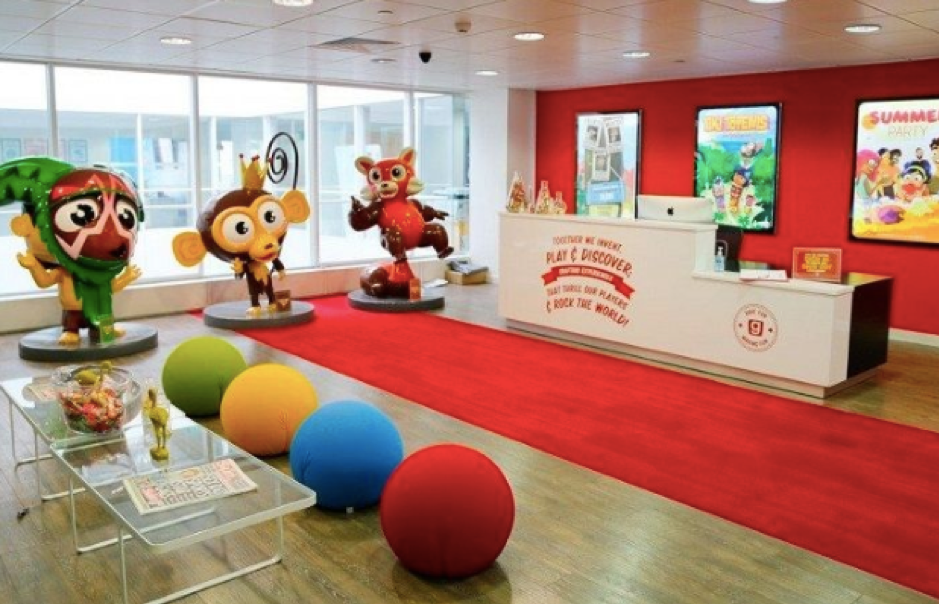 Reward Gateway
They say the best way to make changes are from within and Reward Gateway are definitely at the frontline. An 18-month development didn't leave staff at Reward Gateway disappointed! The employee engagement company have created a space mirroring exactly what they strive to create for their clients.
The whole office has been designed with the end-user in mind, with a flexible working space, staff can choose where they work rather than being assigned a desk. There are a number of unique spaces designed to encourage interaction including the café right in the centre, as well as the wellbeing areas which include an on-site library and a secret garden. Visite Reward Gateway website: https://www.rewardgateway.com/uk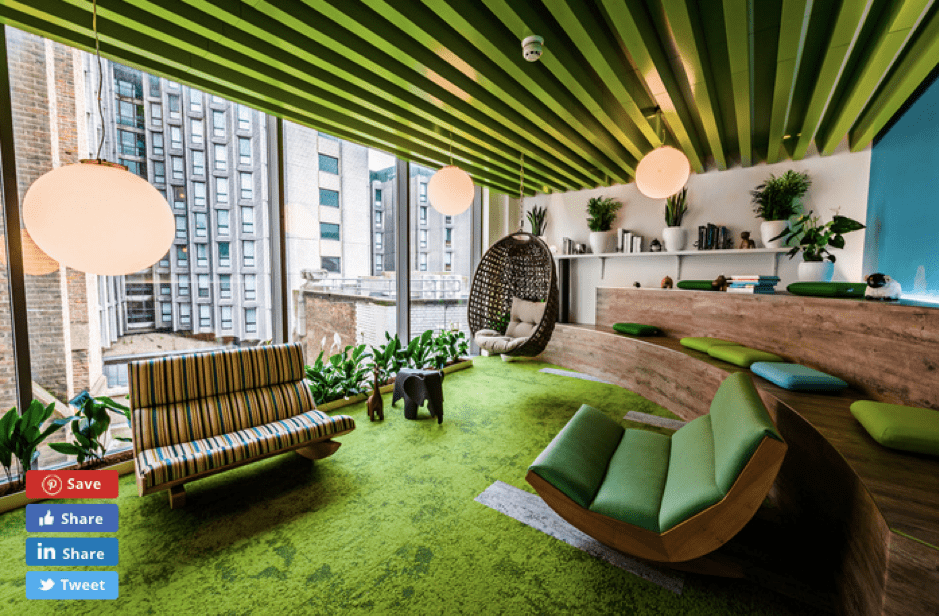 Google HQ London
It wouldn't be right to look at amazing office spaces without Google. Even far away from Silicon Valley, there have been some amazing inclusions of the amenities so often associated with the brand.
The whole office is its own community, with an event space dubbed as "The Town Hall" which seats 200 people and even has a velvet curtain and video wall. There's a gym, equipped with showers and massage, there's even a dance studio. But, one of the nicest features is the care and attention paid to the outside space, although British weather isn't the greatest, the opportunity to work outside would never go amiss. There are even rooftop gardens where staff can grow their own vegetables with its own waiting list for a tub.
As you wander through the offices, being nothing short of amazing you can see the careful consideration that went into office seriousness, staff wellbeing and of course fun!
Please note- none of these offices has been fitted out by Navarre. All of our work is under an NDA; however, you can see some of the work we have been lucky enough to work on here: https://navarre.london/projects/