Close the Loop by Recycling building materials for a better future
Traditionally an office fit-out to refresh a tired workspace, or transform an empty shell took the 'out with the old and in with the new' approach. However, every person and every business are at the frontline of environmental change and have a responsibility to do their part and close the loop. Never has it been more important to consider the environmental impact of our industry and the projects we deliver.
At Navarre London, we take our environmental and sustainability responsibilities seriously. In order to reduce our carbon footprint, we are developing a Close the Loop initiative to integrate into each of our fit-outs.
Close the Loop!
Good for the environment, good for your business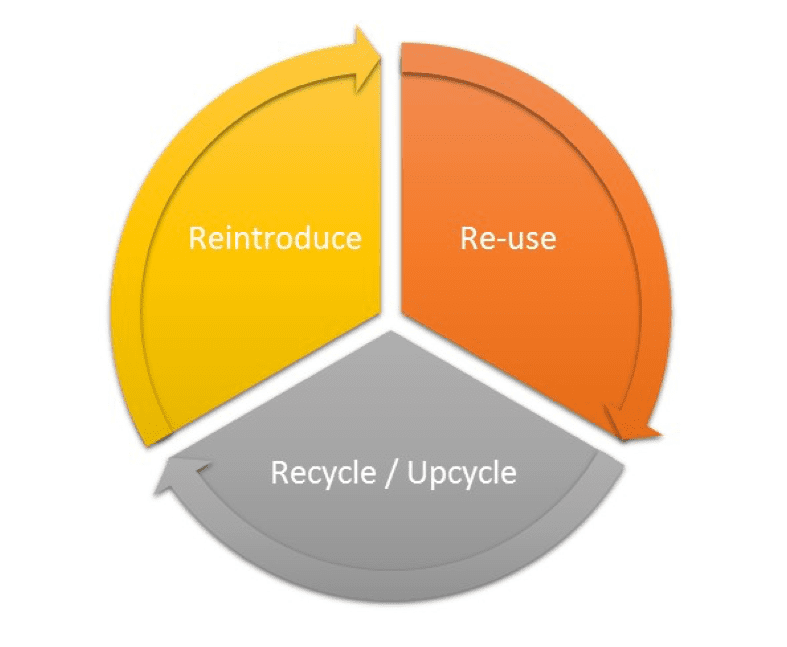 This initiative means that the projects we are undertaking will be introducing (or reintroducing) more reused, recycled and upcycled materials that can then go on and be recycled/upcycled again. Eliminating the need for new products continually without compromising quality, thus "closing the loop". The reduction in waste to landfill can be substantial with this and will increasingly become more relevant as manufacturers decide to look at the products and manufacturing processes they use.
Cut Costs and Your Carbon Footprint
It is estimated that the UK generated 41.1 million tonnes of commercial and industrial waste[1]. The construction industry is one of the largest contributors to waste in the UK, responsible for 59% of the total waste[2].
Refurbishments generate a significant amount of waste that has the potential to be reused and recycled. It isn't just construction materials, approximately 1.2 million office desks and 1.8 million office chairs end up in UK landfill each year.
There is a lot of work to do, but together we can do more. Simply reusing an office desk can cut its carbon footprint by 36% and refurbishing an office chair reduces its carbon footprint by 45%.
Recycled materials defined…
The extraction of a product's raw materials for use in new products. This is a good option for products which are easily constructed and have minimal numbers of components
Recycling paper, cans, plastic has now become second nature and the move to recycling building products and office furniture is progressing quickly. Outdated furniture and old building materials no longer need to go to the landfill, as they say, "one man's trash is another man's treasure".
Reducing Waste with every Fit-Out
With fit-outs generating a significant amount of waste, we will endeavour to responsibly recycle unwanted furniture and reduce landfill waste.
Maintaining Quality
The Navarre Way doesn't compromise quality and using recycled materials will not change our core values. The perception of recycled and reused materials can sometimes be associated with lower quality and durability. However, this is not the case. A recycled product in some instances can come with a 5-year guarantee, rivalling a new product.
---
[1] https://assets.publishing.service.gov.uk/government/uploads/system/uploads/attachment_data/file/784263/UK_Statistics_on_Waste_statistical_notice_March_2019_rev_FINAL.pdf
[2] https://www.thenbs.com/knowledge/construction-waste-and-materials-efficiency
Sourcing the right products and materials is something we take pride in and all of our suppliers share our passion for environmentally friendly solutions. We work with you from conception to delivery and we take a completely transparent approach and we guarantee all of our fit-outs will be delivered to the highest specification.