Workplace Productivity
In one of our previous blogs, we looked into the top 5 factors associated with the productive office design. For this blog, we are looking at how variety is fast becoming one of the biggest factors associated with workplace productivity.
While every individual has their own routines or specifications that make them productive, a morning coffee, a break to chat to colleagues, a walk for lunch. It is the responsibility of an organisation to create a space that enhances productivity and a place that staff are more than happy to be in.
What is workplace productivity?
Workplace productivity isn't simply getting from A to B in the fastest amount of time. It is much more about getting the job done while maintaining happiness and wellbeing for employees.
Why Variety Matters
Every workplace has different requirements and every office design should be a functional space that cultivates an environment to get the very best from employees. A creative organisation, for example, will have very different productivity needs than a bank or government-led faculty. One thing we do know is that productivity thrives on variety!
It's time to think less open plan, more variety! Recent research is seeing a shift from open plan into varied workspaces, as open plan was associated with lower employee satisfaction. To combat this the varied workplace is becoming much more popular. Multiple studies have indicated that breaking up work time with mental rest periods improves productivity, encouraging bursts of movement throughout the workday is said to lower stress and improve wellbeing.
"We" and "Me" Time
A varied workspace encourages movement and accommodates the different needs of employees. Similar to Activity Based Working, it focuses heavily on flexibility and improving space efficiency.
What kind of variety can be included in a workspace? Although completely individual, it is about balancing the "we" and "me" time during a workday. Here are a few examples of different areas that can be included in a varied workspace:
Private areas
Private areas that minimise noise disruption are proving popular for when employees need to deal with private or sensitive information or simply want time to concentrate.
Breakout areas
More and more organisations are beginning to adopt areas that promote employee wellbeing. Opting for gyms, yoga studios, even allotments. All designed with the intention of giving employees a well needed mental rest from their daily activities.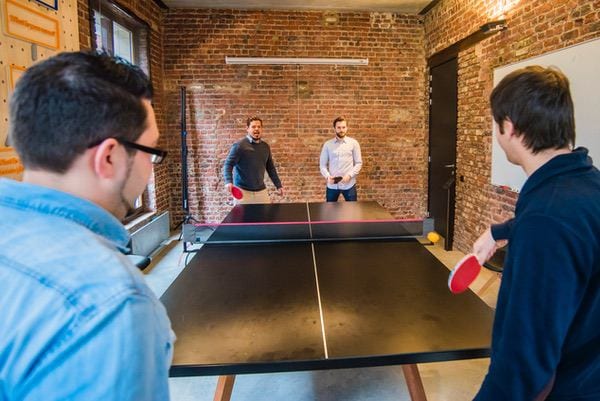 Download CIPD Well-Being at Work Fact Sheet: download
Collaboration Areas
Forget boring board rooms, a collaboration area has much more style and functionality. The need to collaborate within teams and across department has inspired a new era of collaboration rooms. Ranging from casual collaboration areas to more bespoke areas.
Whatever space is used for the technology needs to be able to support what the activities space is designed for. Support your employee's productivity by providing the latest technology and equipment to optimise performance.
Essentially a varied workspace combines the company values and ethos with functionality. Creating a productive workspace is defined by the employees that work there, so to get the most from your employees involve them in the decision-making process when undertaking a fit-out.
To find out how to make your workplace more productive, get in touch with one of our experts.